Zappi
Starting from:
£1150 inc VAT
Including Installation
The world's first solar EV charger
Zappi is a smart EV charger with a difference. It operates as a standard EV charger and has optional charging modes to utilise 100% green energy generated from your Solar Panels Panels.
Solar Panels integration – takes surplus renewable power to charge your EV for free
Control your Zappi remotely via the myenergi app
Three charging modes: Eco, Eco+ and Fast
Economy Tariff Sensor input
7.2kw or 22kw available
Frequently Asked Questions
Yes, the Zappi EV Charger is an excellent option for those looking for an easy and convenient way to charge their electric vehicle. The Zappi charger is compatible with all types of electric cars and plugs into any standard outlet, making it a suitable option for charging your car at home. Additionally, the Zappi charger comes with an app that allows you to track your charging history and see how much money you're saving on petrol.
Overall, the Zappi EV Charger is a great option for those looking for an easy and convenient way to charge their electric vehicle.
The Zappi EV Charger is a very user-friendly charging station. Connect the charger to an electrical outlet and connect the charging cable to your car. Once connected, the charger will automatically start charging your vehicle. You don't have to press any buttons or switches – it's that easy!
The Zappi EV Charger also includes many features that make it easy to use. For example, the charger has an LCD screen that displays information about the charging process, such as the current charge level and how much time remains until the car is fully charged. The charger also includes an automatic shut-off function, which turns off the charger when your car is fully charged to prevent overcharging.
A Zappi solar electric vehicle charger works by converting sunlight into electricity that can be used to power electric vehicles. It's a great way to reduce your carbon footprint and help the environment, and it's really simple to use. Just park your car in the sun and plug the charger into your car's charging port. The Zappi charger will do the rest, automatically converting sunlight into electricity to charge your car's battery. It's a great way to save money on petrol and help reduce emissions from cars.
Yes! The Zappi electric vehicle charger is a smart charger that can intelligently assess the type of EV battery and electrical grid it's connected to, then provide only the amount of power required to charge the car.
This helps to reduce energy consumption and lower electricity bills. Additionally, the Zappi charger monitors the car's charging status in real-time, so you always know how much charging is left to complete.
The Zappi EV charger is compatible with most electric and plug-in hybrid cars, including the Nissan Leaf, Renault Zoe, BMW i3, Volkswagen e-Golf and Teslas. It's a great option for those who would like to charge their car without having to find a charging station. The Zappi is also a great choice for people who own a home with limited access to charging stations.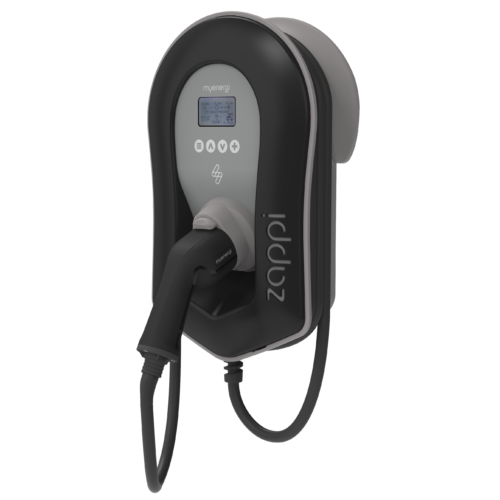 Get a quote for your
EV Charging Zappi Installation Today!
Luc D'Iorio – Private EV Customer
An excellent service from the estimate to completion of the installation. The routing of the cable through the cottage is neat and to specifications. The electrician and his apprentice were very professional. We would unreservedly recommend Aspect Group.