Ohme Home Charger 7kW
Starting from:
£950 inc VAT
Including Installation
Experience the future of EV charging with the Ohme Home Charger, an intelligent, compact, and reliable solution designed to simplify your electric vehicle charging process. This device pairs with the Ohme app to provide complete control and automation, allowing you to maximise savings and minimise your carbon footprint. As a result, the Ohme Home Charger is not just a product but an investment in cleaner, smarter, and more affordable energy usage.
Key Features and Benefits:
Intelligent Charging

 optimises your charging process based on your home electrical tariff. It syncs with your tariff to charge at the most cost-effective rates, potentially saving you £275-£350 per year compared to standard smart chargers.

Compact Design

: The Ohme Home Charger is discreet and compact, designed to fit seamlessly into any home setup without causing obstruction or clutter.

Total Control with Ohme App

: Enjoy complete control of your charger from anywhere with the Ohme app. Set your charging schedule, track your energy usage, and manage your costs, all at your fingertips.

Over-the-Air Updates

: Stay ahead with constant over-the-air firmware and software updates that continually improve your charger's performance and introduce new features.

Cable Options: Available with tethered Type 1 or Type 2 cable connectors to suit a wide range of electric vehicles.

Peace of Mind with a 3-Year Warranty

: We stand by the quality of our products. That's why the Ohme Home Charger has a 3-year warranty for your peace of mind.

Environmentally Friendly

: You're investing in a greener future by choosing the Ohme Home Charger. Our charger enables efficient energy use and helps reduce your carbon footprint.

Get Paid to Charge

: With the right energy tariff and low grid demand, Ohme customers can sometimes even get paid to charge their vehicle.
Unlock the smart way to charge your electric vehicle with the Ohme Home Charger. So switch today and join the revolution towards sustainable and affordable energy.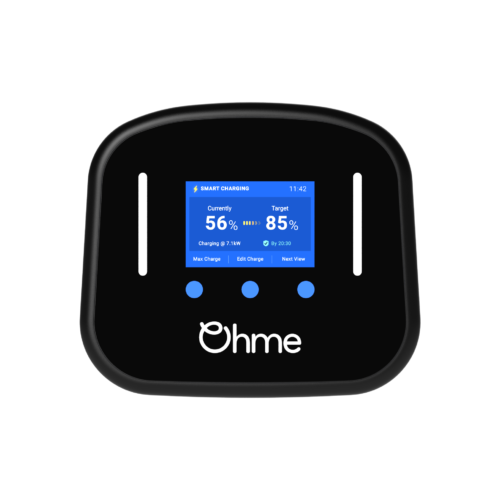 Get a quote for your
EV Charging Ohme Home Charger 7kW Installation Today!
Aspecte
Very happy with the management of the overall project, and how each stage was dealt with. Good Product, well fitted and excellent work from knowledgeable staff through out.